Are you cruising to Vietnam? Will your cruise ship be docking at port of call: Ho Chi Minh City (Phu My) Cruise Port, Vietnam and you do not know how to find and book Ho Chi Minh City Shore Excursions for you and your family? Nha Trang Shore Excursions is here to write this blog to give you, hopefully, some know before you go useful insight about port of call: Ho Chi Minh City (Phu My) Cruise Port, Vietnam. From how to head for an exit to what shore excursions are available; the 10 must-visit attractions in Ho Chi Minh City; the best restaurant for lunch;… This is all you need to take note!
I. OVERVIEW
Few cities evoke the same mystery and glamor as Vietnam's Saigon, now called Ho Chi Minh City, where its historic past mingles with an effortless edginess to form a modern city on its way to being a top destination on any Asia Cruise. You might know more about Ho Chi Minh City than you think, whether you're intrigued by the area's elaborate underground tunnel system used throughout the 20th century or know of the famous Reunification Palace from history books and photographs.
Ho Chi Minh City, however, isn't limited by the past. It is decidedly looking forward and being elevated to a new status as a foodie haven, home to the world's best banh mi sandwiches, and energetic local markets that rival the chaos and excitement of Beijing, Mumbai, and other metropolises. When you're in Ho Chi Minh City on a Saigon cruise, you're sure to be surprised by the city's scope.
1. Top Food and Drink Spots near Ho Chi Minh City (Phu My) Cruise Port
– Hum Lounge & Restaurant
Take a seat in the lush, plant-filled back patio of Hum Lounge & Restaurant, and you'll be transported to a world where worries don't exist. The theme of the place is vegetarian, which gives carnivores a break from meat dishes and encourages them to try something new. Fresh, lightweight salads and braised tofu are a few highlights. Don't forget to try the mango sticky rice.
– Maison Saigon Marou
If you're stumped on what priceless souvenir to bring back home from your Saigon cruise, why not give the gift of delicious chocolate from Maison Saigon Marou? They produce some of the best chocolates in Ho Chi Minh city, plus an iced chocolate drink you have to try. Of course, there are the classics like cheesecakes, eclairs, and espresso and coffee drinks available.
– Banh Mi 362
You can't come to Vietnam without trying an authentic banh mi, one of the country's most famous dishes, and Banh Mi 362 is just one of the many spots travelers can choose from during their time in Ho Chi Minh City. Whether you want pork or veggies, they'll build your banh mi however you'd like.
– Propaganda Bistro
The first word that comes to mind when you step inside Propaganda Bistro is "stylish," because this trendy spot has a colorfully painted mural with popular expressions written on the walls. Beyond that, Propaganda calls itself "twisted Vietnamese cuisine," meaning they put a new spin on traditional Vietnamese dishes, like breakfast banh mi complete with a cup of coffee, or duck curry with rice noodles.
2. Culture & History of Ho Chi Minh City (Phu My) Cruise Port
Ho Chi Minh City is one of Vietnam's richest cities with a storied past. Once known as Saigon, today it's abbreviated to "HCMC," and has only grown in trendiness. Trade and commerce brought HCMC to the international stage, and Saigon acted as the capital city of the Republic of Vietnam from 1955 until 1975. Before that, the French ruled the area during most of the 19th century, which impacted the architecture and visual aesthetic of the city. Many of the area's biggest attractions honor and pay respect to the impact of the Vietnam War on both Ho Chi Minh City and the entire country of Vietnam. Today, Ho Chi Minh City is the largest city in Vietnam and over 13 million people call it home.
3. Ho Chi Minh City (Phu My) Cruise Port Facilities & Location
Phu My is about an hour and a half away from Ho Chi Minh City proper, so your best bet to get into the city is via an excursion with Celebrity or a private tour. The amenities at the Ho Chi Minh cruise port are minimal, but there is a small market at the pier for souvenirs before you reboard the cruise ship. There's not a lot at the commercial port except for a shuttle to take interested passengers to a small town in the area called Ba Ria.
4. Transportation in Ho Chi Minh City (Phu My) Cruise Port
Transportation options are limited in Ho Chi Minh City, and the port of Phu My is primarily commercial and used for cargo and trade. As a result, very few taxis travel to the Phu My port area. The best, easiest option for cruisers is to book a shore excursion or private transportation in advance to take you to the heart of Ho Chi Minh City.
5. Shopping Near the Ho Chi Minh City (Phu My) Cruise Port
The markets in Ho Chi Minh City are diverse and a great way to meet and mingle with locals. At the Ben Thanh Market, souvenirs and handmade goods are sold from merchants along with some of the best street food in the city. Before you board the Saigon cruise ship again, check out the intimate, small market near the pier for last-minute finds. Bargaining and haggling is a must in Ho Chi Minh City. For food goods, there's the supermarket Ba Ria, which you can take a shuttle to get to. It's a great way to get a feel for what kinds of fresh produce and vegetables are unique to Vietnam.
6. Local Currency & Tipping Customs
Use the official currency of Vietnam, the dong (VND), while you're traveling in Vietnam. You'll want to exchange your currency into VND and carry enough cash for your day-long stop while on a cruise to Ho Chi Minh City. Credit cards aren't widely accepted in the area except at some higher-end restaurants. Crisp U.S. dollars are sometimes accepted, too. Credit cards that have better luck of being accepted here are American Express, Visa, and MasterCard. Cash to cover a meal, a taxi, or to purchase a souvenir is a must-have. When you're at a restaurant, a service charge is usually included already, so you don't have to tip additionally. When you take a taxi, it's polite to round up to the nearest VND.
7. Language
The official language is Vietnamese, but English and French are widely spoken.
II. TOP THINGS TO DO FROM HO CHI MINH CITY (PHU MY) CRUISE PORT, VIETNAM
1. War Remnant Museum
A collection of memories of the Vietnam War or as the Vietnamese people prefer to call: American War. War Remnants Museum offers a perspective of the Vietnam side of the war which lasted decades.
The museum is not for the faint-hearted. Besides the display of old tanks, planes and war machines, the indoor exhibition takes you on a journey of the sufferings of Vietnamese people through photographs and written documentation. They might not be able to change your opinion about the war that has been but it can move you to tears. Nevertheless, the War Remnants Museum is one of the most important sites for all the visitors to visit.
2. Reunification Palace
Considered as the most historic landmark of Vietnamese history, Reunification Palace marked the end of the American War. On the noon of 30th April 1975, Saigon's Palais Norodom was claimed by North Vietnamese and since then it changed its name as known as today.
Time seems to be frozen here, in the secret rooms, Ngo Dinh Diem's command bunker, even the grand reception halls. The history of Vietnam will float before your eyes as you wandering through the palace. Especially how the war has ended.
Reunification Palace is also known for its architecture – another work of the French. Although the palace has undergone a lot of restoration, its main architecture remains.
3. Saigon Notre Dame Cathedral
Just like the Saint Joseph Cathedral in Hanoi, Saigon Notre Dame Cathedral is another architecture masterpiece left by the French colonists. Built in 1880, the Cathedral remains one of the few strongholds of Catholicism in a country that is deeply influenced by Buddhism.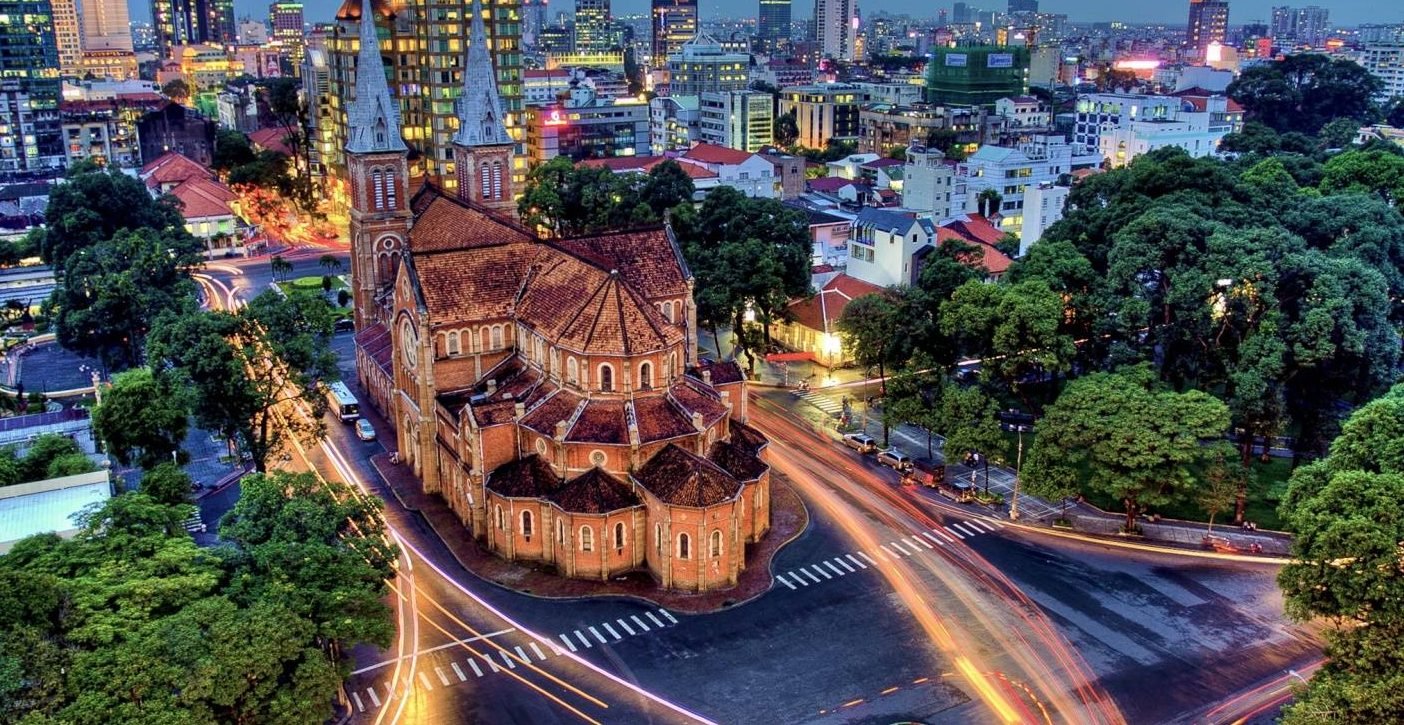 The name of the building was inspired after the erection of the statue "Peaceful Notre Dame" in 1959, a statue of Virgin Mary standing in front of the Cathedral. Many believed that they saw the statue shredding tears in October 2005.
Nowadays, Saigon Notre Dame Cathedral has become one iconic tourist site in Ho Chi Minh City. All visitors are free to attend the official mass at 9:30 AM on Sunday.
4. Ho Chi Minh Central Post Office
The Central Post Office is one of the most popular sites for photographers. First opened in 1891, the Post Office has become the glorious example of French colonial architecture, designed by the very one who built Eiffel Tower – Gustave Eiffel.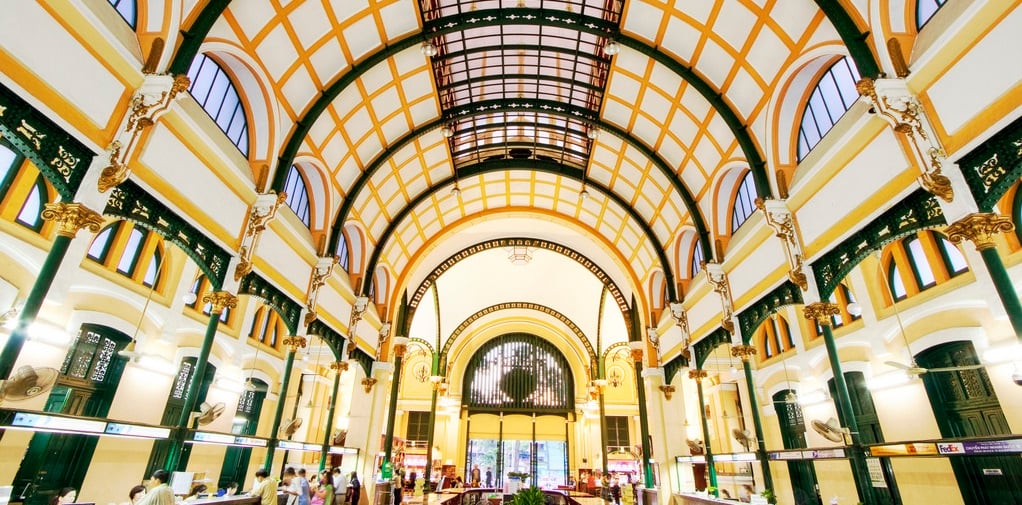 Visitors can't help to be enchanted by the shining lopping arches, the marble floors, telephone boxes – the representatives of an era where mobile phones and email hadn't yet existed. Carved on the wall are the maps of regions – one showing telegraph lines in Vietnam and Cambodia and a map of Saigon in 1892.
Until this day, the building is still functioning as a post office with two wings beside the main office where you can purchase souvenirs, postcards, stamps, and lacquerware.
5. Shopping at at Ben Thanh Market
You want to go to a place where you can enjoy shopping for souvenirs, handicrafts, all kind of goods and eating traditional Vietnamese foods? Welcome to Ben Thanh Market whose existence so vital to the point it's considered the unofficial symbol of the city.
Situated at the intersection of Le Loi, Ham Nghi, Tan Hung and Le Lai streets, Ben Thanh is accessible through 4 gates. The food section with more than 20 eateries in the market offers a wide variety of Vietnamese cuisine from Com Tam, Pho, and Sizzling Pancakes to Noodles and seafood.
For shopping, you can find almost everything here: clothes, textiles, electronic goods, lacquerware, souvenirs, and more. Bargaining is acceptable, don't hesitate to haggle the prices down.
6. Visit Thien Hau Pagoda
Thien Hau Pagoda in Ho Chi Minh City is the most sacred worshiping place of Thien Hau, the Lady of the Sea, and an important character in the religious worship of Vietnamese and Chinese people. The pagoda was built back in the 19th century with every Asian architecture style.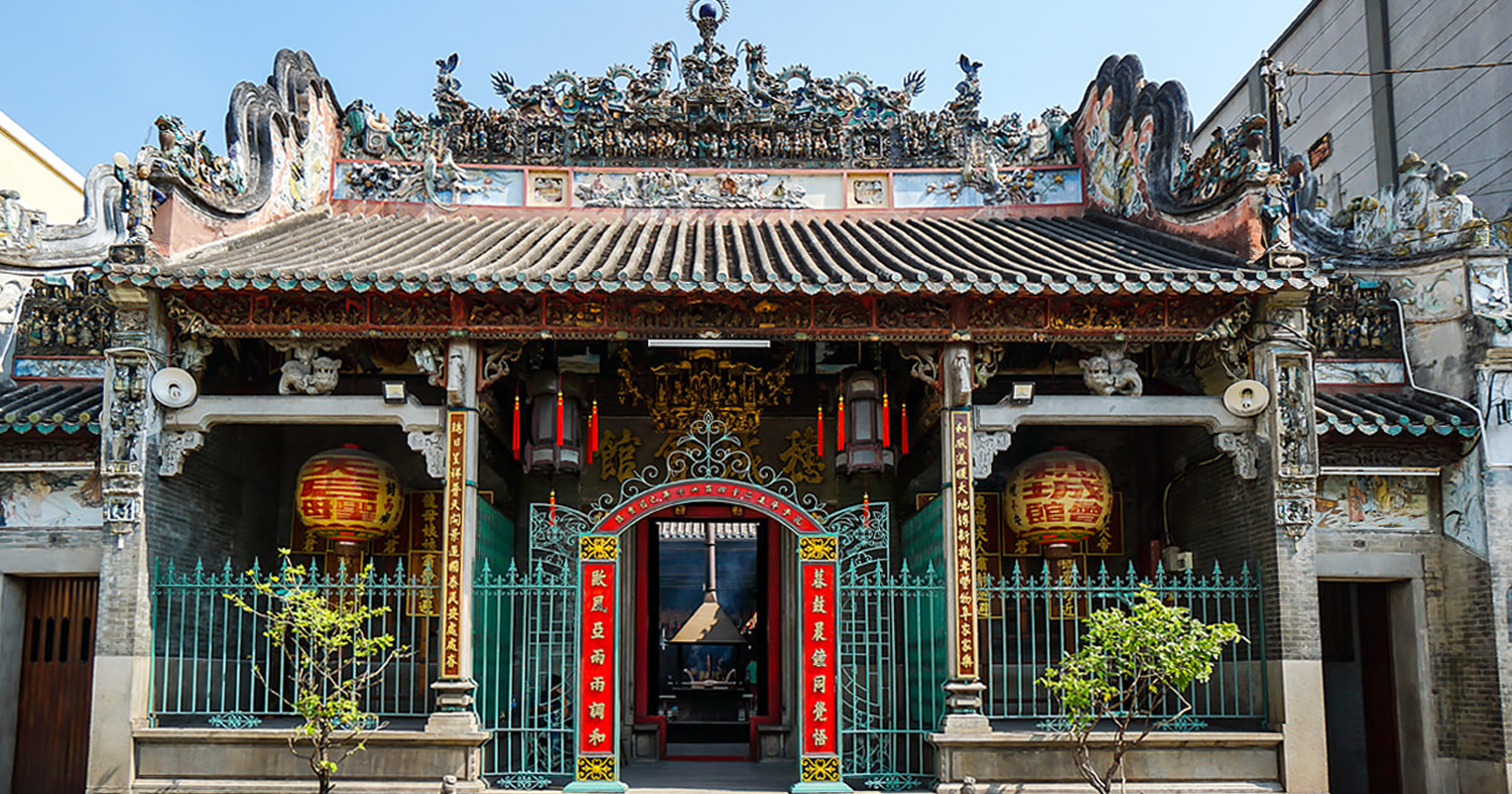 Looking at Thien Hau Pagoda's façade, it seems to bring you back in time with a kind of haunting feeling. The most beautiful feature of the pagoda to behold must be the roof section on which an incredible sculpture reliefs were carved on.
But as soon as you walk inside, the beauties of intricate details and sculptures will be something to feast your eyes on. The many giant coils of incense hanging in front of Thien Hau's altar makes the place even more photogenic.
7. Ho Chi Minh City's Chinatown
Explore Cho Lon, Ho Chi Minh City's Chinatown, while you're on a cruise to Ho Chi Minh City. In fact, Cho Lon was once one of the biggest Chinatown districts in the entire world. Walk around Piu Dinh and stop for an iced tea or photograph the colorful facade of the city as you stroll by. Food stalls offer more traditional Vietnamese dishes than you'll find at the touristy markets.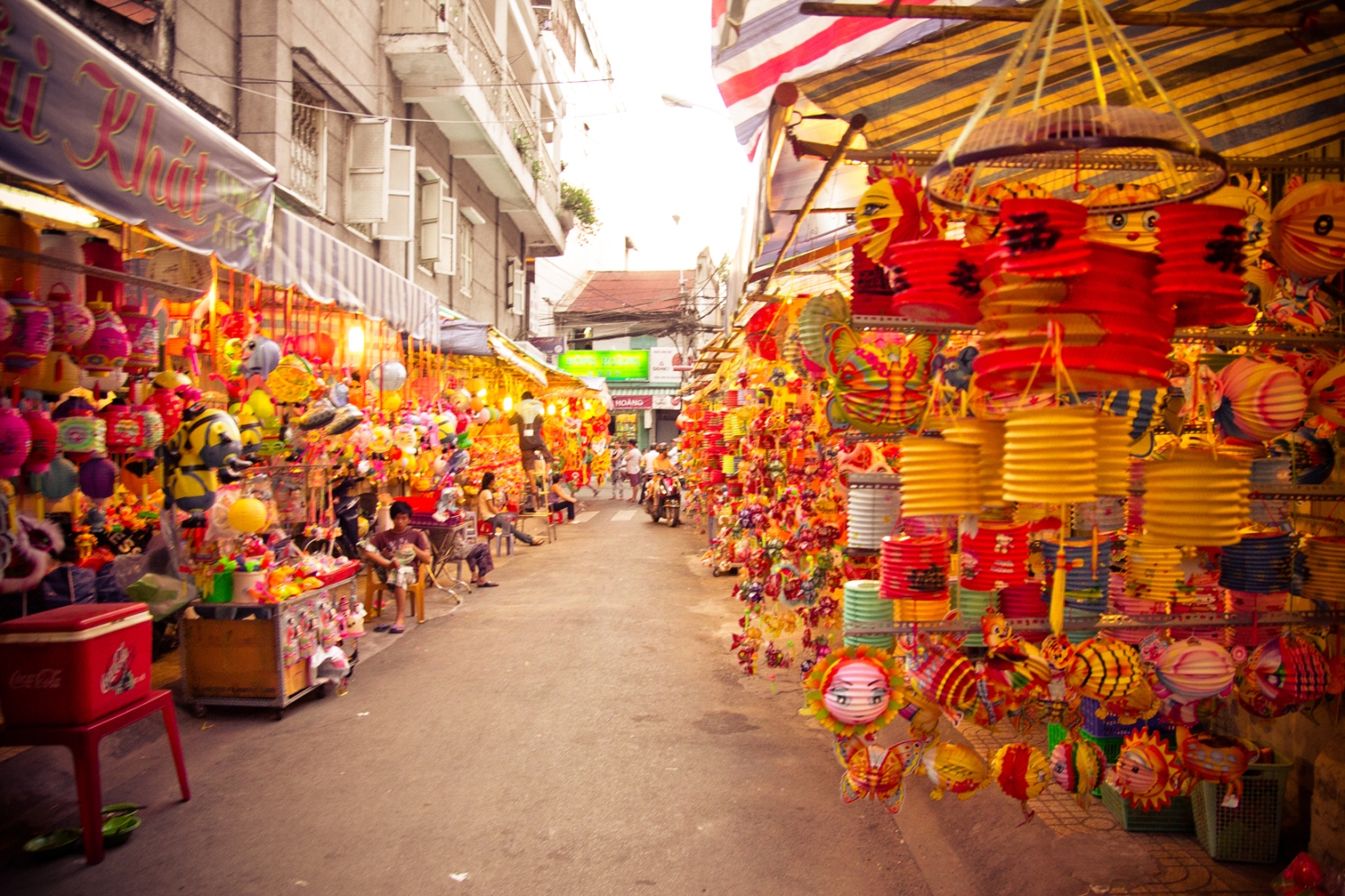 8. Live Like a L Live Like a Local at Binh Tay Market
If you like the energy of crowds, the fun of haggling, and the joy of finding the perfect souvenir, Binh Tay Market is a must-do while you're on a Saigon cruise. It's one of the city's biggest markets that attracts large crowds going grocery shopping or just perusing the local goods each day. Shop and bargain with vendors or simply walk around for an exciting sensory overload.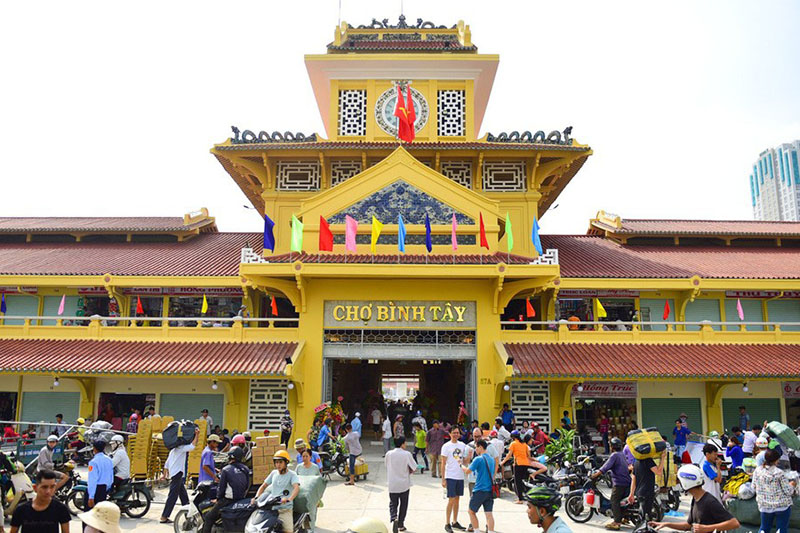 9. See the Jade Emperor Pagoda
Need an hour or two to unplug while you're in Ho Chi Minh City? You're in luck when you head to the Taoist Jade Emperor Pagoda, which is a bit of a haven smack dab in the area of Ho Chi Minh City called Da Kao. Walk these ornate grounds and surround yourself with the figure of the Jade Emperor and a variety of other sacred Taoist sculptures.
10. Cu Chi Tunnels
Cu Chi Tunnels rank as the top day trip from Ho Chi Minh City. The complex is about 40km away from the city center, concealing an enormous system of underground tunnels which was used as shelters from bombs, living places, supply routes and more, built by Viet Cong during Vietnam – America War.
Besides the tunnels were the impressive setting of hand-made traps and weapons hiding beneath the grounds, made mostly from bamboo trees. Cu Chi Tunnels contributed an important part to the final victory of Vietnamese people.
Nowadays, Cu Chi Tunnels is a huge tourist spot near Ho Chi Minh City. Tourists come to the tunnels will get a deeper insight into how Vietnamese people dealt with the war and their ways to win it. There is also a shooting range featuring the guns which were used widely at the time where visitors can try shooting.
11. Mekong Delta
From Ho Chi Minh City, it's just convenient to get on a short day trip to Mekong Delta – the fertile region of the south. Mekong Delta, for a long time, has been recognized as the mother river that gave life to the largest delta region of the country. It's the land of a lot of rice, all kinds of tropical fruits and vegetables.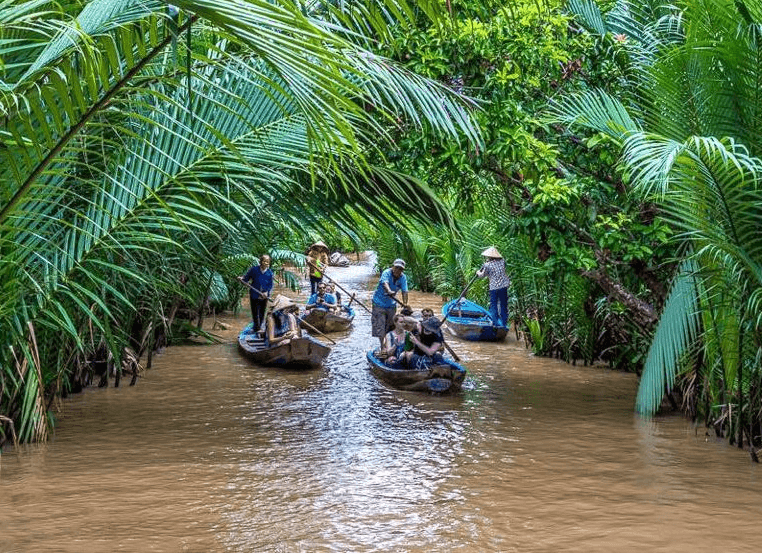 The river also nurtured a unique way of life of the southern dwellers who bonded so deeply with nature and the river that their lives are centered around. Here, people transport by boats just as much as other vehicles. A trip on a sampan boat down the backwaters, or deep into the submerged forests will be so fun because it's when you actually see the land through the eyes of the locals.
Floating markets in Mekong Delta is a memorable cultural experience to enjoy. The local farmers walk up so early to sell their fruits and vegetables to folks on the land. The atmosphere is absolutely incredible with flocks of sampan boats come and go, busy purchasing farmers, colorful heaps of all different kinds of fruits and vegetables. You can enjoy some local foods that are sold right on the boat.
And there're even more things to see like durian orchards, rice paper factories, candy factories…. Mekong Delta is indeed a wonderful place for both first-timers and those who have visited before.
12. Cao Dai Temple
Caodaism can be considered as a religion of Vietnamese people which consists of Buddhism, Christianity, Islam, Taoism and Confucianism. Built in 1955, Ho Chi Minh City's Cao Dai Temple now is opened for visit.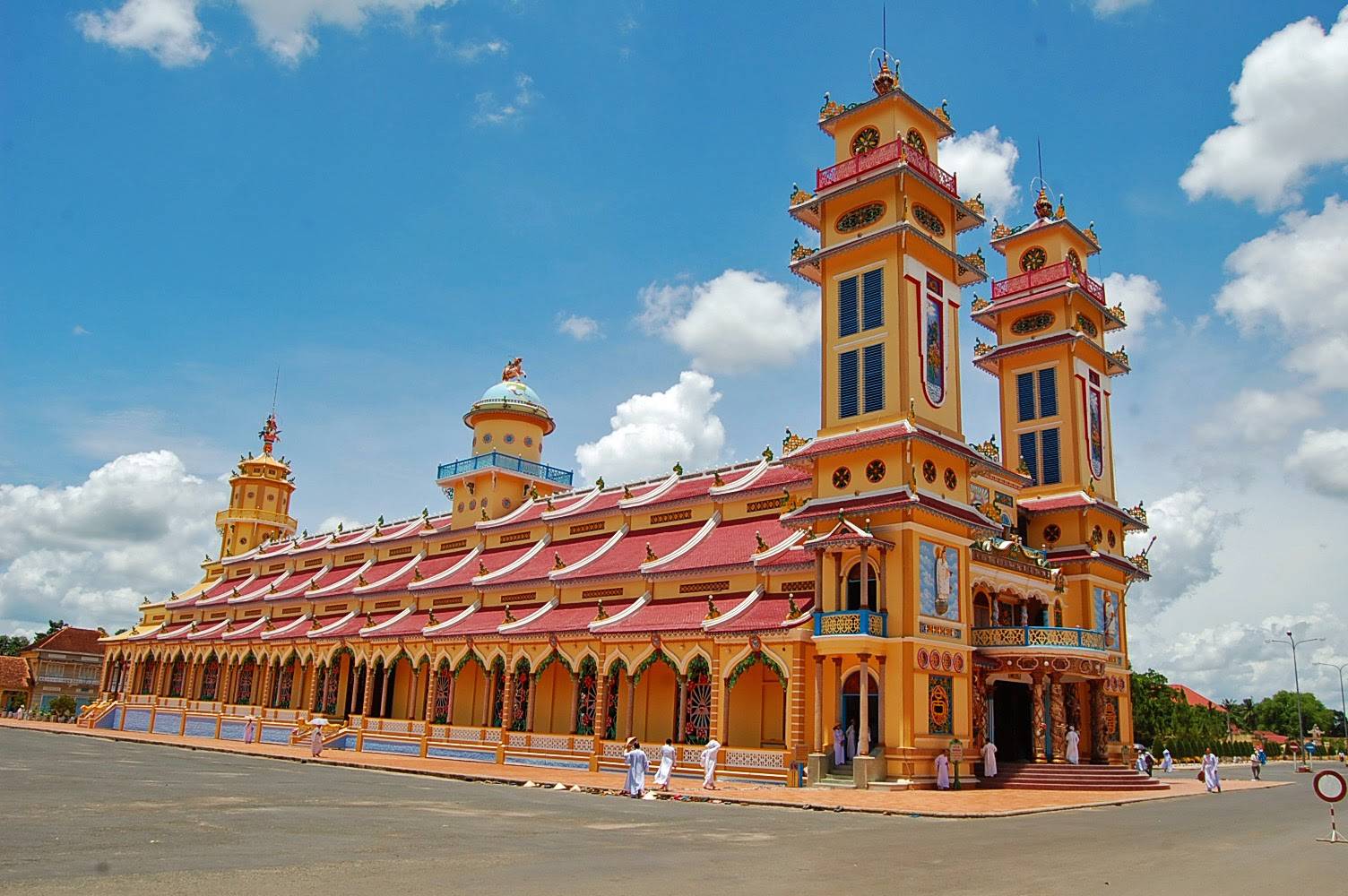 With the design similar to a Christian cathedral, Divine Eye which has Yin and Yang in the pupil, dragons wrapping pillars, Cao Dai Temple indeed is a unique architectural combination. Witnessing praying ceremony is the highlight of your visit to Cao Dai Temple when the followers dress in white, yellow, blue and red long robes.
13. Vung Tau City
Vung Tau city or Ba Ria-Vung Tau is a famous port city in Vietnam. It has long sandy beaches which stretch along the coastline. This city is also the best place on mainland where you can admire sunrise and sunset on the sea beautifully and has many unique relics such as Vung Tau Lighthouse, Jesus Statue, Niet Ban Tinh Xa Pagoda, Thich Ca Phat Dai Pagoda, Long Son Large House, etc. All the attractions of the city thank to the harmonious combination between natural landscape, urban architecture and cultural works…
III. SUGGESTED SHORE EXCURSIONS (PRIVATE & GROUP SHORE EXCURSIONS) IN HO CHI MINH CITY (PHU MY) CRUISE PORT, VIETNAM
Nha Trang Shore Excursions offers the best private custom deluxe Ho Chi Minh City Shore Excursions for all valued cruise ship passengers from Ho Chi Minh City (Phu My) Cruise port, Vietnam. We have been highly recommended by many customers on Tripadvisor, Cruise Critic and Private Guides. Join our Ho Chi Minh City Shore Excursions, you not only have a chance to explore all the beauties and hidden charms of Ho Chi Minh City, also enjoy various delicious speacialities and understand more Vietnam history and cultures. We guarantee a local perspective that will give you and your family a once in a lifetime experience. Please check out recommended Vietnam Shore Excursions, if you do not find any suitable itinerary, please contact our Vietnam travel experts. We will help you tailor a unique shore excursion to Vietnam that is exclusively for you.
Da Nang is a coastal city in central Vietnam known for its sandy beaches and history as a French colonial port. It's a popular base for visiting the inland Bà Nà hills, located to the west of the city. Here the Hải Vân Pass has views of Da Nang Bay and the Marble Mountains, 5 limestone outcrops that are home to pagodas and caves containing Buddhist shrines. Nowhere in Vietnam is changing as fast as Danang. For decades it had a reputation as a provincial backwater, but big changes are ongoing. Stroll along the Han riverfront and you'll find gleaming new modernist hotels, and apartments and restaurants are emerging. Spectacular new bridges now span the Han river, and in the north of the city, the landmark new D-City is rising from the flatlands…
---